Rural Economy

| Isle of Wight Farm Characteristics | 2017 | 2012 |
| --- | --- | --- |
| Number of Farms | 237 | 213 |
| Acres in Farm Land | 80,672 | 75,642 |
| Average Size of  Farm | 340 Acres | 355 Acres |
| Market Value of Products Sold | $64,223,000 | $45,625,000 |
Source: U.S. Census of Agriculture 2017 & 2012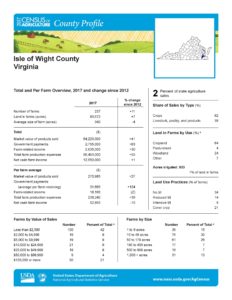 Agriculture & Forestry have $91 Billion Economic Impact in Virginia
In August 2017, Governor Terry McAuliffe announced that a new comprehensive study shows Virginia's agriculture and forestry industries contribute $91 billion annually to the Commonwealth's economy. This represents a 30 percent increase from the most recent study, released in 2013, which showed an annual economic impact of $70 billion. The total employment impact of these industries also increased by approximately seven percent, from 414,700 to 442,200 jobs, representing approximately nine percent of total employment in the Commonwealth.
Agriculture and Forestry in Isle of Wight County:
$2.72 billion economic impact (3rd in VA)
5,100 jobs (11th in VA)
The study, based on 2015 data, was led by Dr. Terry Rephann of the Weldon Cooper Center for Public Service at the University of Virginia. It found that agriculture accounts for $70 billion of the $91 billion total, and forestry contributes $21 billion.