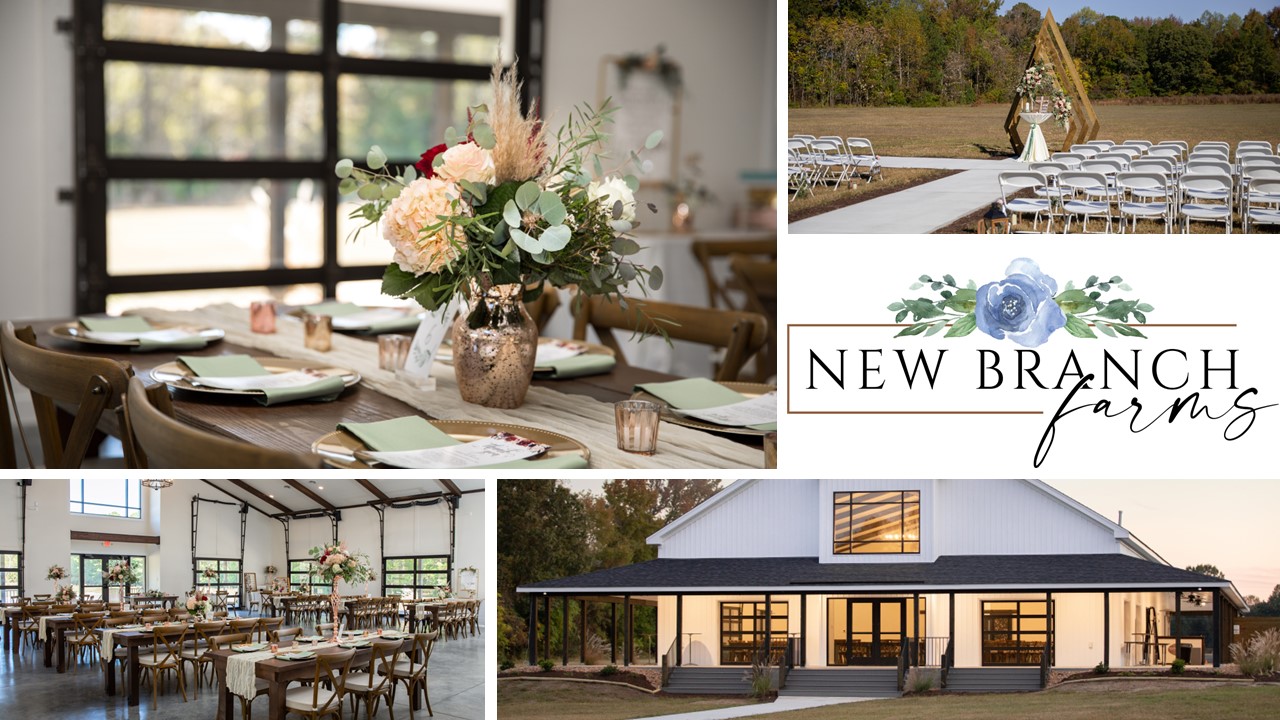 From Farm Field to New Branch Farms
"Where Marriage is Planted and Starts its Growth"
New Branch Farms is a brand-new wedding and event venue located in the Rushmere area of Isle of Wight County. As wedding photographers, owners Wendy and Sam Mills set out to create a venue with lots of natural light and beautiful backdrops. Their 4,000 square-foot, modern, farmhouse-style venue is equipped with a gorgeous bridal suite, casual groom room and full caterer's kitchen. The venue features a Grand Room with wood beams and six glass overhead doors that open up to 23 beautiful acres of country views. The outdoor ceremony site has a high-heel friendly concrete walkway, and the large wrap-around porch is the perfect place for guests to mingle and enjoy cocktail hour. The venue even has a dog park for furry family members to hang out after the ceremony!
Although the venue specializes in weddings, New Branch Farms was intentionally built to offer a modern and sleek design that can be transformed into any style for any type of event. The venue is equipped with two 75-inch, wall-mounted monitors for video presentations and a full sound system. It can accommodate corporate meetings, baby showers, family reunions, birthday and anniversary parties, festivals, and so much more. At New Branch Farms, the possibilities are endless!
New Branch Farms is located at 14509 Lawnes Drive, Smithfield, VA 23430. For more information or to schedule a tour, visit www.newbranchfarms.com or call
757-903-5953 or 757-374-2964 and ask for Sam or Wendy. You can also reach them by email at info@newbranchfarms.com. Follow New Branch Farms on Facebook and Instagram.
---
Feature Your Business for FREE!
We know businesses in Isle of Wight County rock, and we want to tell the world. If you'd like to have your business featured in our newsletter and online for FREE, contact us and be prepared to tell your story!